Poshmark is a social commerce platform for the next generation of retailers and shoppers. I just posted a blog on the reasons why I signed up for Poshmark and how the app has helped me manage my closet better!


As a one-stop shopping solution for new and preloved fashion, using Poshmark can be fun but also challenging, especially for first time users or 'New Poshers' in Poshmark terminology. One of the challenges is not knowing what to list in your closet, or what to list first, what items sell, or what brands sell. This could cause some frustration. So today I thought I'd share, from personal experience, some tips on categories, brands & specific items that are trending & quickly sell on Poshmark!
Posh Markets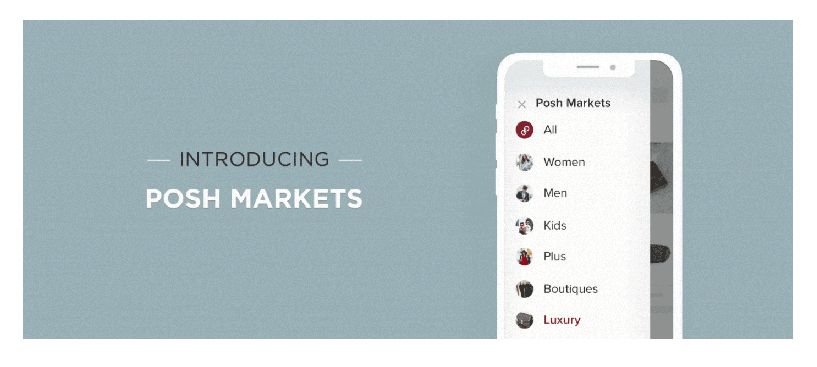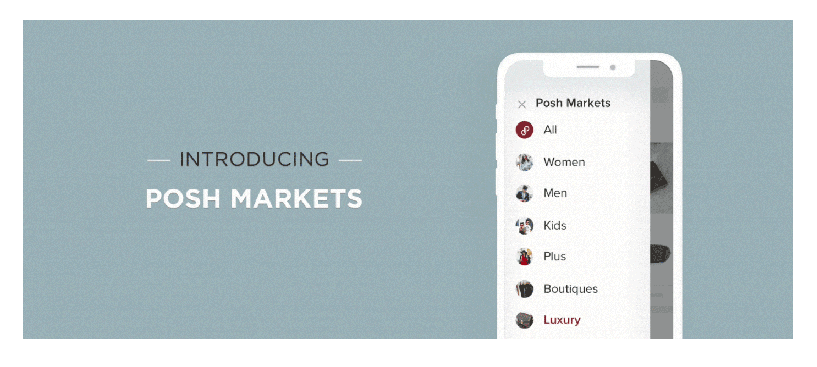 Before I joined (and explored) Poshmark. I thought it was just an online shopping solution for women's clothing. Since then I discovered that there were several 'Posh Markets' or categories/ departments that you could shop from. These include the following :
Women – Activewear, Kicks, Makeup, Maternity
Men – Activewear, Fine Watches, Kicks, Luxury Accessories
Kids – Activewear, Kicks, Prom, School;
Home – Bath, Bedroom, Dining Room, Kitchen, Living Room
The above are basic markets. But they aren't all. I've seen Poshmark constantly growing, evolving and improving their offerings. So it was not a surprise to see them add new market categories – Luxury, Boutiques, Seasonal Décor, Office, Gifts and even a wholesale Market – to their already existing and successful markets!
None of this happened overnight. I remember getting updates and introductory feelers to let the Posh community know of these upcoming markets. I even got surveys once in a while, as I am sure many other Poshers did, to share our feedback on what works and doesn't and asking for ideas to help improve the buyer/ seller experience and service! The roll out of the Wholesale Market was evidence that Poshmark was aware and encouraging of wholesale retailers using the app solely as a business for profit. The Home, Gifts, Office and Seasonal Décor Markets recognize that some Poshers aren't only interested in shopping for clothes and shoes. The Maternity, Petties and Plus Size markets are sensitive to addressing that section of consumers specifically. The all-encompassing Posh Markets make Poshmark a truly one-stop shopping solution for fashion!
Brands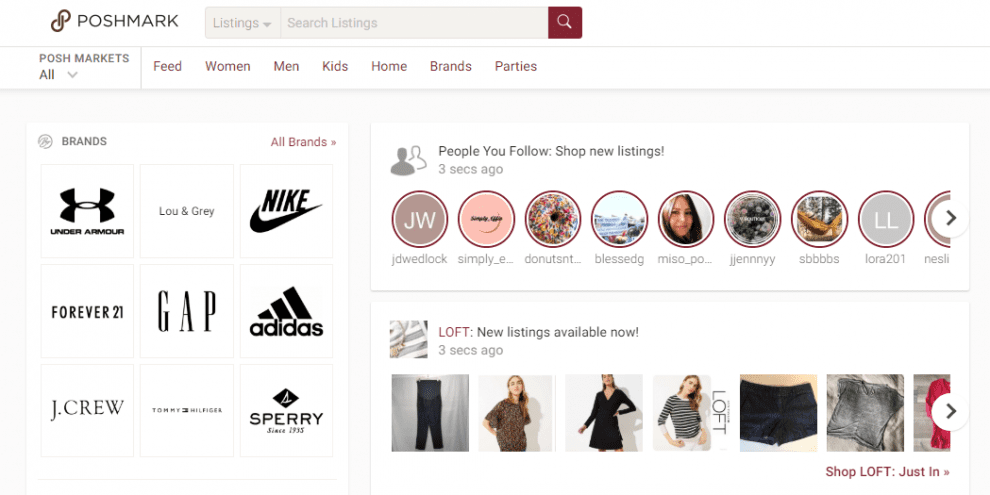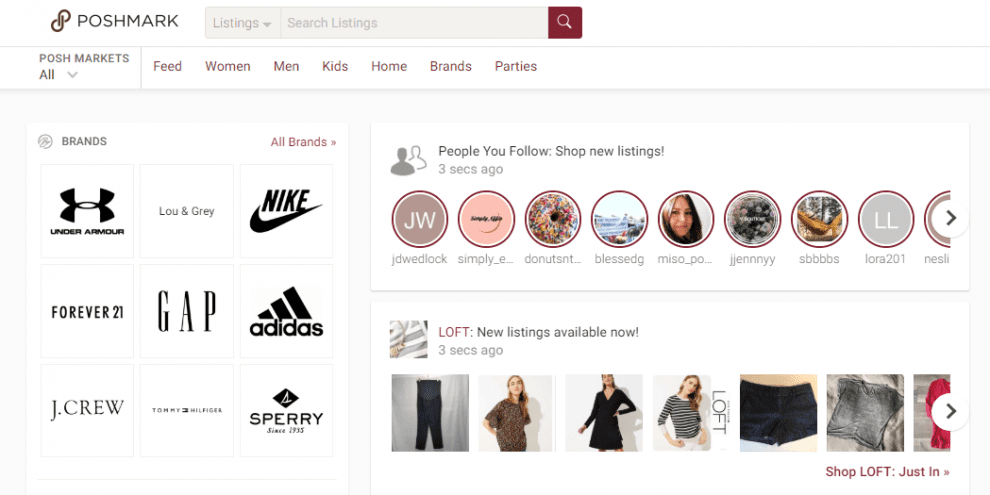 So now that we know what Markets are available on Poshmark, let's go a step further and take a look at some popular brands.
Visible brands include Nike, Michael Kors, Louis Vuitton, lululemon athletica, PINK Victoria's Secret, Coach & Chanel among others. If these are some of your favorite brands, you're in luck and will no doubt have a closet full of these coveted items just looking to find new homes. Keep in mind that while some people like the same brands as others, everyone is unique in their fashion sense and style. The idea is to have a fair mix of brands in your closet – some athleisure, some luxury/ designer, some boutique etc. Consumers crave variety and a variety of brands would mean more fashion/ styling options at an affordable cost range. Your objective should be to keep your closet fresh – give buyers a reason to frequent your closet. Mixing up the brands and frequently listing items will get the job done!
Specific Items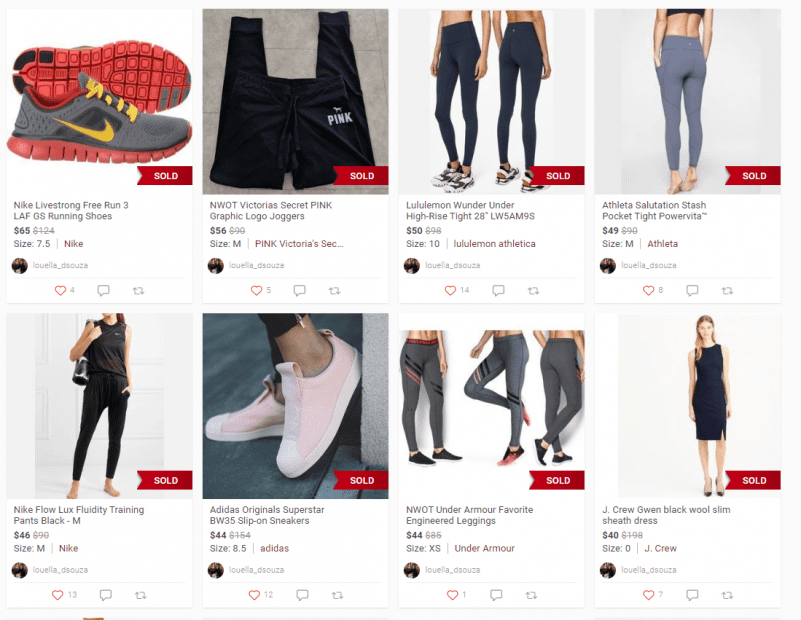 You may have a bunch of Nike Tank tops and Calvin Klein sweatpants listed in your closet and sitting around for a while, but a listing of a pair of J.Crew Flats or Lululemon Wunder Under High-Rise Tights, sell immediately. Weird? No it's not, because it happened to me! "But Nike is a popular Brand" you say, or "hmmm…. I wonder why?" you say. Well, here's why. Irrespective of brand, some items just have better traction and demand than others and Poshmark offers these items at prices that are competitive for the seller but also affordable to the buyer. It's a win-win!
I'd put Activewear – Lucy, lululemon athletica, Fabletics, Gymshark, New Balance, adidas, Adidas by Stella McCartney, Athleta, Puma, Jordan, Nike, Beyond Yoga, ALO Yoga, Onzie, Asics, Spiritual Gangster, Under Armour, Zella – Shoes, and bottoms (pants, jeans, sweatpants of all types) at the top of my list of items that sell. My closet has seen a lot of success with these. But other items that are highly searched for and sell equally well on Poshmark include Makeup (Urban Decay, Tarte, Sephora), Bags , Maternity, Outdoor (Billabong, Sanuk, Oakley, Quiksilver, The North Face, Patagonia, Columbia) Designer/ Luxury (Frye, Cole Haan, Helmut Lang) & Jewelry/Accessories.
What's Trending on Poshmark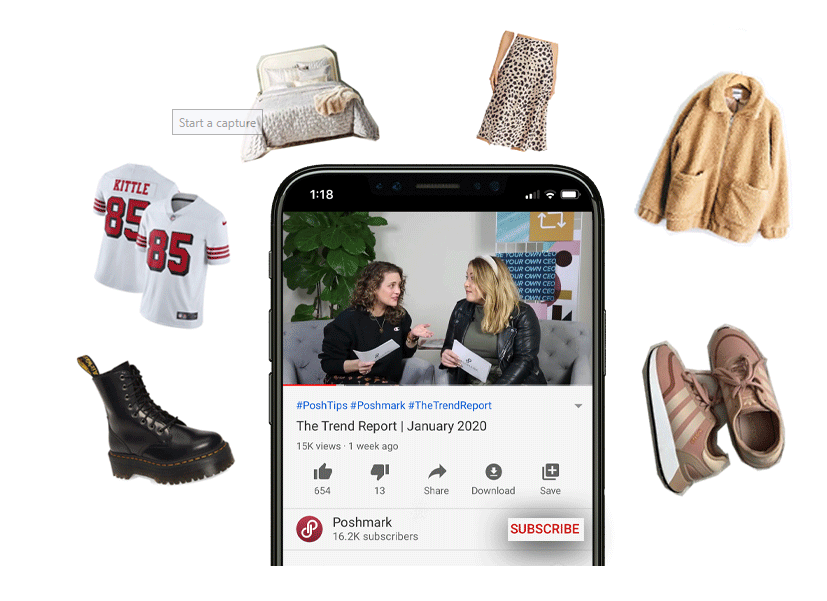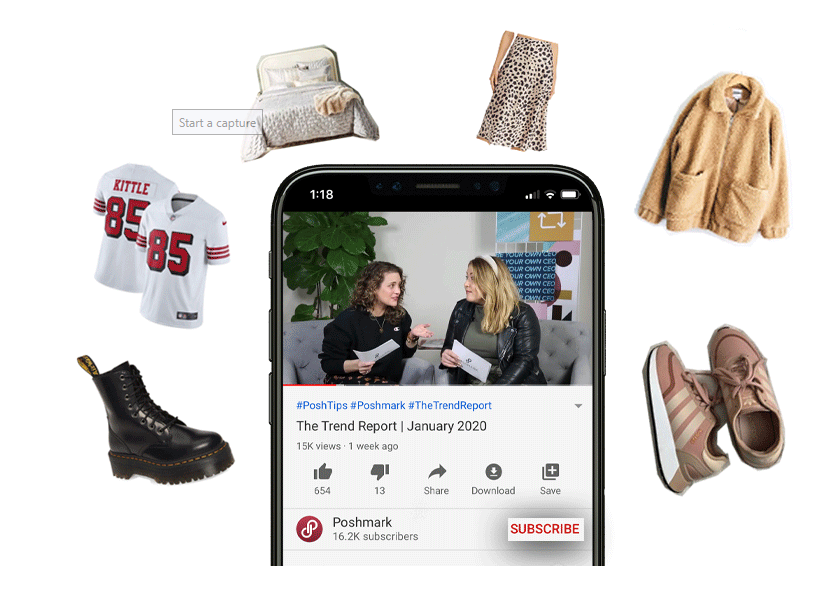 When it comes to helping build up your closet, Poshmark has gone a step ahead and even shares a report on Brands that are trending.
Zara, Converse, Levi's, PINK Victoria's Secret, ASOS, Marc Fisher, Everlane, Steve Madden, Vince Camuto, LuLaRoe, Lulu's, Ray-Ban, Vans, Sam Edelman & Torrid are some of the trending brands.
Free People, Anthropologie, Birkenstock are some the favorite Boho Brands, while Preppy Brands include J. Crew, Kate Spade, Vineyard Vines.
This is expansive but in no way exhaustive information. Poshmark accommodates a lot of Markets, brands and items. If you are a first time Posher trying to set up your 'New Closet' online, there's a lot to sift through and look for and you may have some of these brands. If you have been on Poshmark for a while, looking to up your game in sales, you too could attempt to source some of these brands. Either ways, I hope this information helps you put a spin on your Poshmark Closet because if you're open to it and willing to put in some time and effort, you can make Poshmark work for you.