Now that Halloween is over, Thanksgiving is just around the corner. It is the best time to start teaching your little ones about the reason we celebrate this fun holiday, and what better way to do that than with some fun holiday crafts? Our friends at a Rexburg preschool love to do fun activities with children, and so they have put together this list of fun thankful crafts for us to share with you.
1. Thankful Tree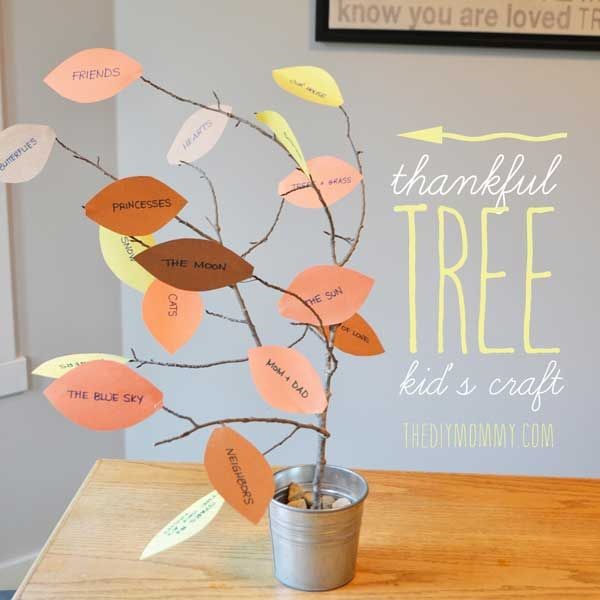 Gratitude and giving thanks is what this holiday is all about. Try this fun little thankful tree from The DIY Mommy this Thanksgiving season. Let your littles explore outside for the perfect fallen branch to be the base for their tree. Find a cute bucket or vase to place it in, filled with marbles, moss or dirt. Help them cut out leaves on which they can write down the things they are thankful for. Hang the leaves on the tree and you're done! You can even have your child think of one thing they are thankful for each day and add a leaf every day.
2. Paint Chip Turkey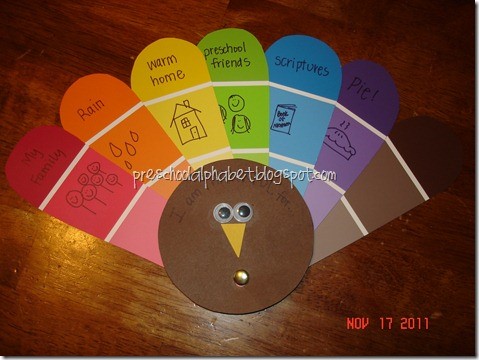 This is a fun one. Pick up some paint chips from the store, or let your kids pick out some color. Then use those for the turkey's tail feathers. Have your kids write or draw what they are thankful for on the paint chips. You can pull these out at the Thanksgiving dinner table to have each child read off what they are thankful for this year. Find the full tutorial at Preschool Alphabet.
3. Wreath of Gratitude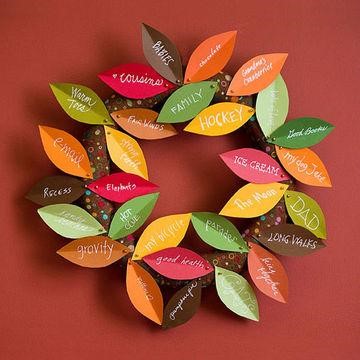 Make a wreath with your child like this one from Parents.com. Pick up some colored paper and a styrofoam wreath from the dollar store. Have your kids write down or draw what they are thankful for and pin their leaves to the wreath. You could even go on a nature hike and find real leaves to add to this project.
4. Thankful Dry Erase Boards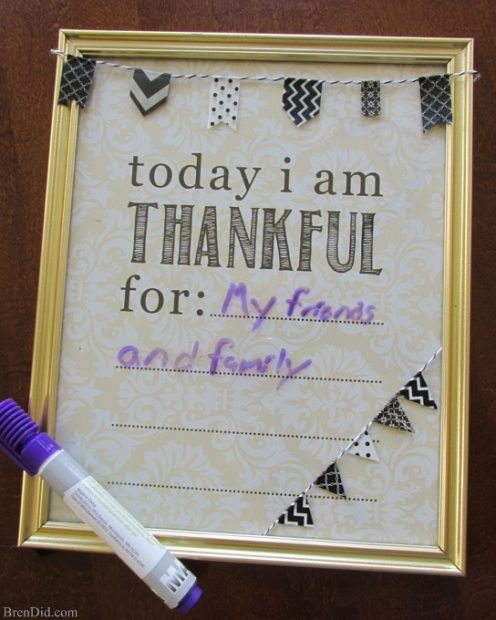 With this craft, let your child pick out a picture frame and frame a paper that says "Today I am thankful for…" with some space to write what they are thankful for. Each day have them write down with a dry erase marker what they are thankful for. Let them decorate the frame with pompoms, glitter, leaves, or whatever their little minds can imagine. You can find some free printables for this craft at Bren Did.
5. Thankful Pie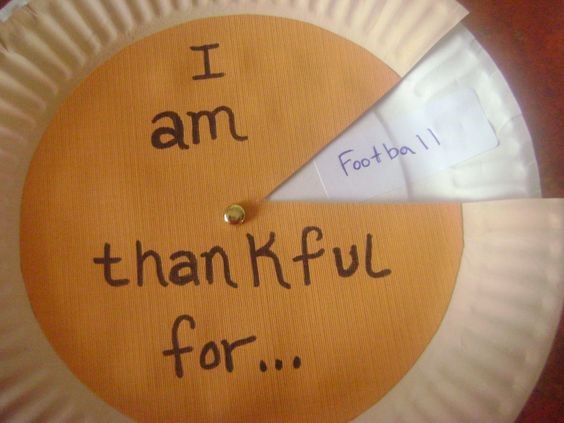 With this fun craft, all you need are some paper plates, a bracket, paint (or markers), and something to write with. Turn one of the plates into a pumpkin pie with the paint, cut out a "piece" of the pie, and write the words "I am thankful for…". On the bottom plate, have your child write the things they are thankful for. Attach both plates with a bracket in the center so they can turn the plates to show what they are thankful for each day.
6. Grateful Rocks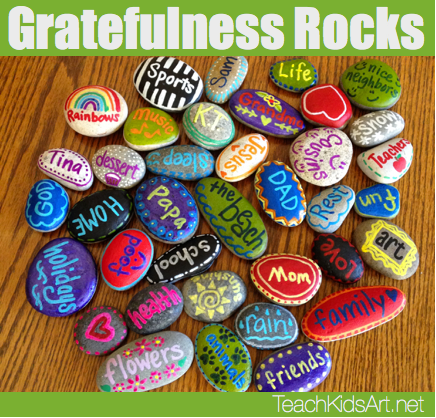 Find some rocks on a hike, or pick some up from a craft store, and let your child paint, write, or draw what they are thankful for on them. This is a great activity for the entire family to participate in. For a fun activity afterwards, you can even let your kids hide the rocks around the house (inside or outside) and try to find each other's rocks. Find the tutorial for these rocks at Teach Kids Art.