I've always been a jeans & leggings kind of girl. About a month & a half ago I was rushing to the gym &  pulled on a pair of UnderArmour grey sweatpants, sitting, unworn in my closet for a long while. It was cold out, but I was immediately surprised by how cozy, comfy & chic in felt & looked in these. It was a 'Hey, stop EVERYTHING! What just happened?!" moment & life was never the same again. Since then I've been obsessing about sweatpants – looking for the perfect pair in stores and online, browsing jogger style outfits & actively stalking all the brand names.
I'm very particular about the cut, fit & style of my clothes & I realized there was such a variety in this case too.  Fashion can be overwhelming & as a woman, I get it. So today, I'm going to share with you the different types of sweatpants, brand and styles available, sizing tips & how to plan your next outfit & maybe, just maybe I'll find my perfect pair in the process:
Types
When shopping for Sweatpants, you have to first know that there are different types & while we loosely club all these under the category of 'Sweatpants', there are some real technical differences between each type in terms of cuts, length, fabric & even the activity they are made for – Yoga , gym, dance, travel, running or lounge wear for example.
Type
Defining Feature
Cut/ Fit
Length
Main Fabric
Famous Brands
Activity
Sweatpants
Elasticized or drawstring waist
Flared or Bootcut. Sometimes wide leg
Traditionally Full Length or Capri
Cotton- Polyester Blend
Hollister
Lounge wear
Joggers
Elasticized or cuffed ankles.
Front pockets
Tapered. Relaxed hips & slimmer through legs
Full or Cropped 7/8th length
Cotton- Polyester Blend
Abercrombie & Fitch, Tommy Hilfiger, Gap
Errands, Retro Vibes
Trackpants (tear away/ break-away/ rip- off & popper pants)
Made of polyester or Windbreaker materials
Tapered & slim fit OR Straight, wide legs (windbreakers0
Full / Ankle Length
Polyester, Synthetic Materials
Adidas
All Sports, Travel & Roadtrips
Skinny Jogger/Sweatpant Leggings
Tapered leg, stretchy, skinny like leggings.
Fitted Leggings
Full/ Ankle or Cropped 7/8th length
Cotton or improved synthetic materials – Polyester, Spandex or Rayon, Lyocell & Modal
SO, Arizona Jeans Co. and DKNY
Yoga, Workouts
Sweatpants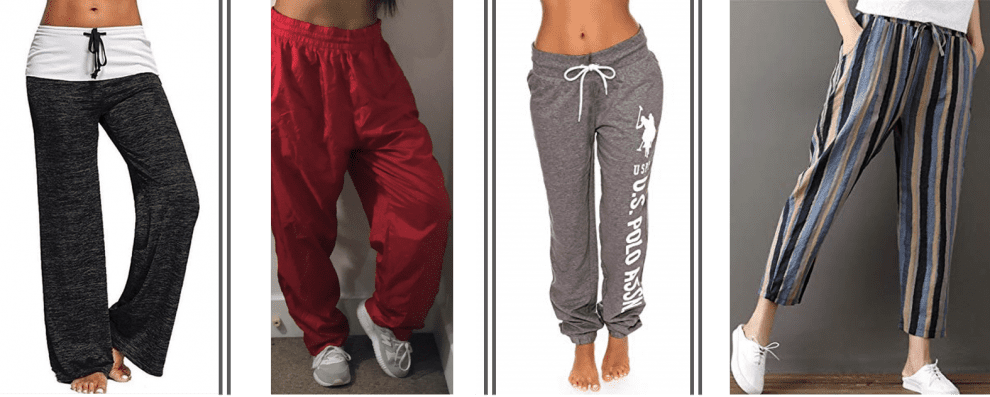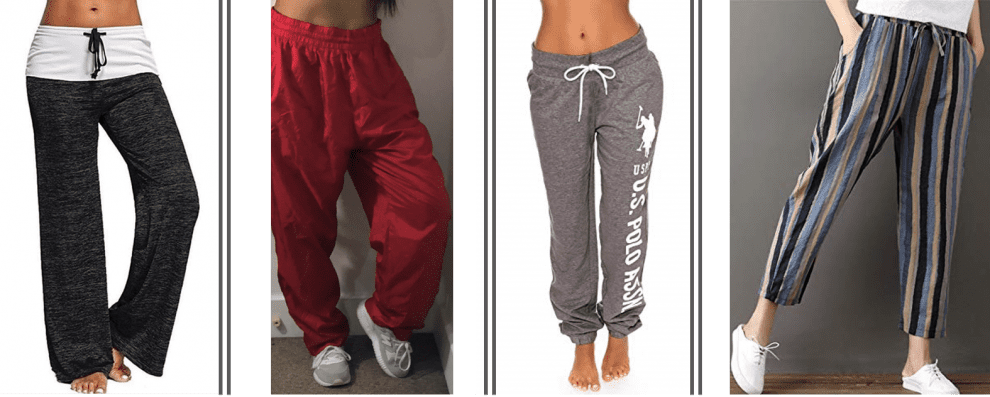 Loose, warm trousers with an elasticized or drawstring waist, worn when exercising or as leisurewear.
Joggers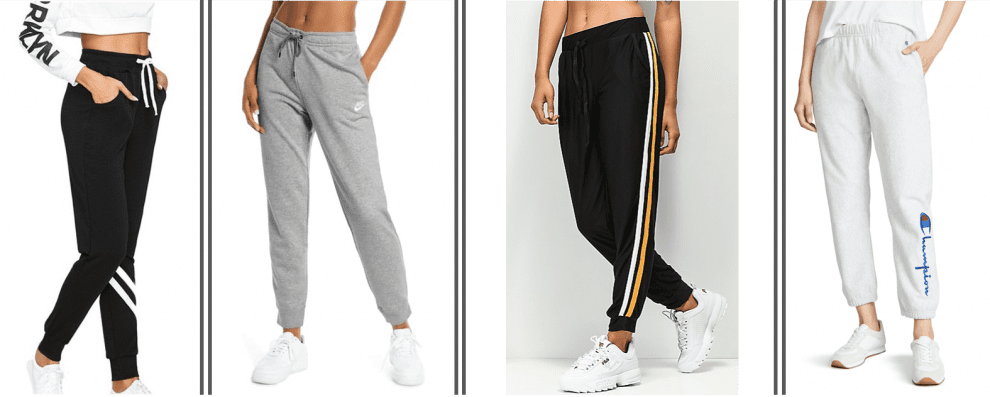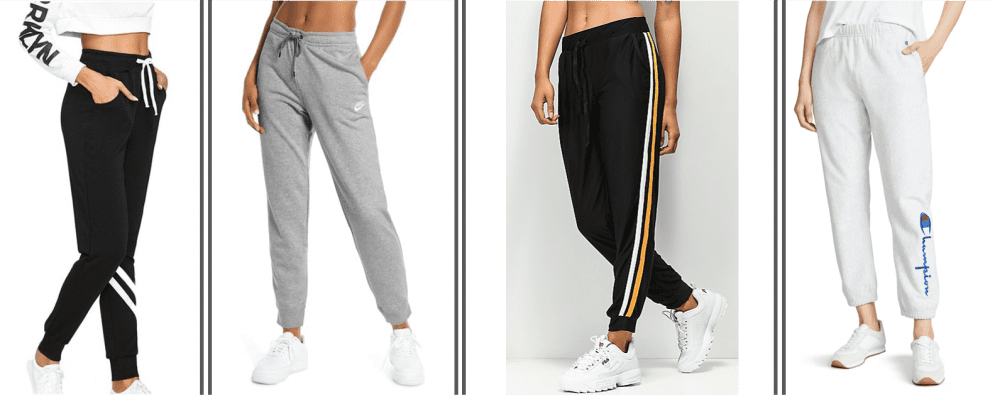 A pair of pants where the bottom of the pants are made with elastic or cuffed (regular & broad) which come closest to exuding retro vibes. Champion's Premium Reverse Weave Sweatpants fits the bill.
Trackpants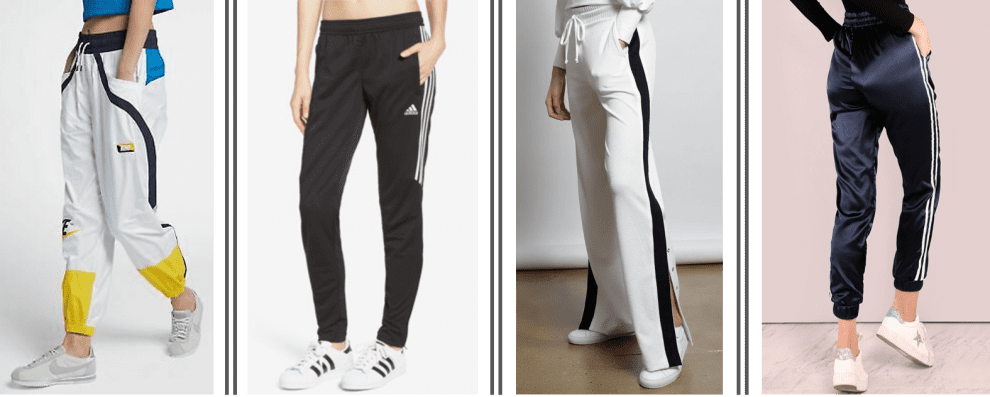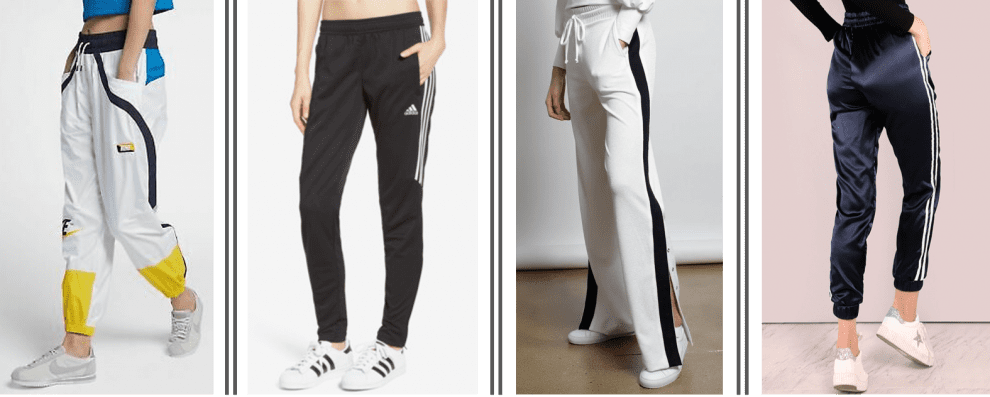 Wind-breakers, tear aways/ break-aways/ rip- offs & popper pants all fall into this category. Trackpants are like Joggers but are made of polyester materials that are smooth and wrinkle free, usually worn for track events. Adidas's famous Tiro soccer trainers with ankle zips is a good example of these.
Skinny Leg Sweatpants or Sweatpant Leggings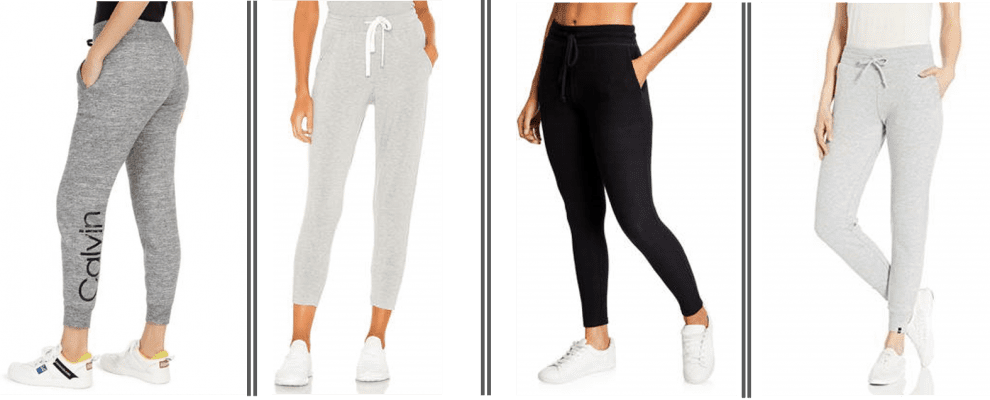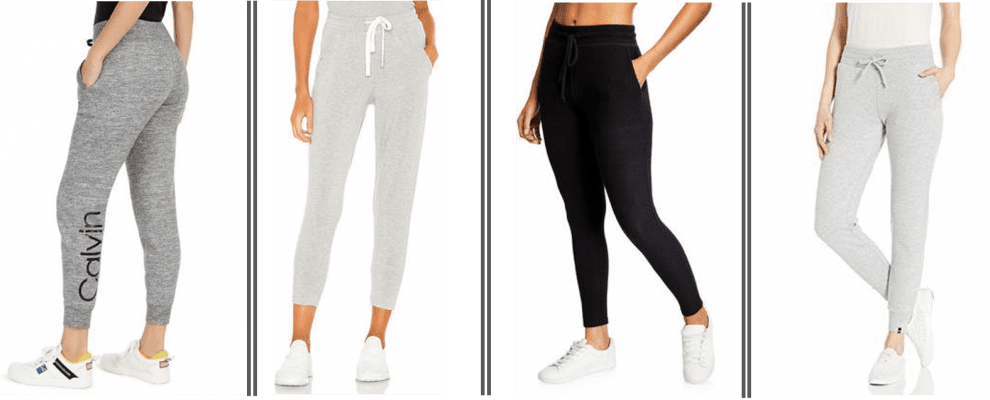 This is a relatively new category to the market. Today, technological improvements to synthetic materials have made products that contain spandex more washable and durable than an organic material such as cotton. Skinny Leg Sweatpants or Sweatpant Leggings, as the name suggests, may be made of these improved synthetic materials or the same cozy sweat pant-like cotton fabric. Either ways though, other than having the elasticized or drawstring waist, these stretchy, tapered leg sweatpants are skinny & fitted like leggings. They look wildly different than the sweatpants your dad was used to wearing! I've only come across one brand so far – 'SO Joggers' – that actually brands their version of these as the – Sweatpant Leggings. However Forever 21's  Marled Knit Joggers and Brushed Combo Lounge Pants also fall in this category.
What's Trending: Modern Cuts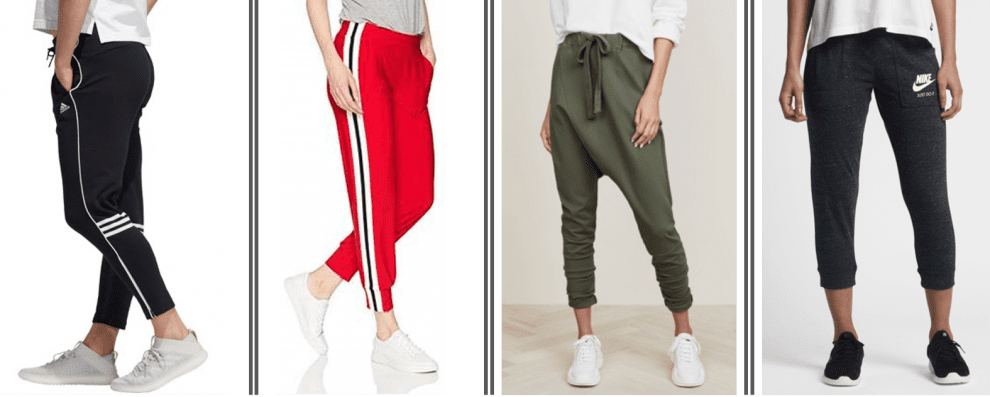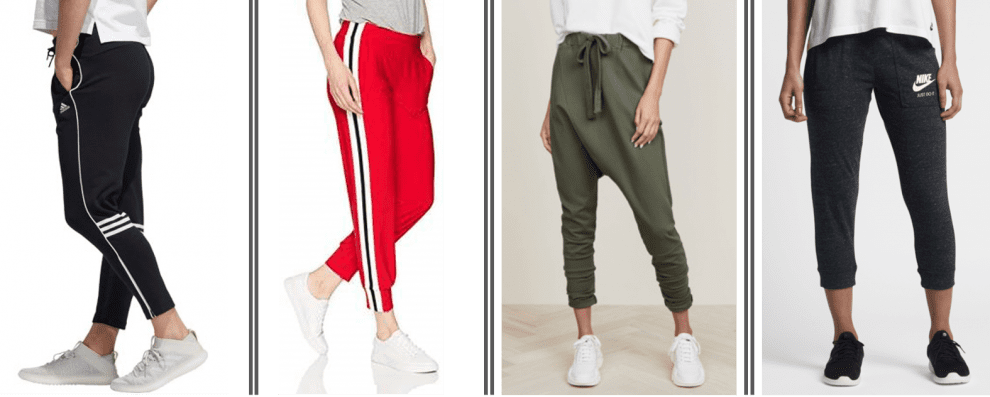 I've notice brands like Adidas, Nike, Champion, Beachbody, American Eagle, Lou & Grey and Calvin Klein among others have put on spin on sweatpants, introducing modern cuts to the traditional style. These cuts feature a relaxed thigh and gradual tapering throughout the leg, towards the ankle. The typical ankle cuff design is eliminated and instead merged with the calf section for a more sleek, elongated silhouette often defined by zippers, contrast stitching and other embellishments. Lastly unlike the typical full length or capri jogger sweat pants, the length of these modern trending cuts are cropped – midway between calf & ankle for a more 7/8th length. Adidas Changeover Joggers & Outdoor Voices CloudKnit Sweatpants are good examples.
Sizing Tips
Most brands run true to size when it comes to Sweatpants. In my experience, Adidas is most true to size, Hollister tends to run smaller, and Calvin Klein & Abercrombie & Fitch both run a little larger. Again, sizing also depends on the type of 'sweatpant' you're shopping for. Some styles are meant to be oversized fits, while the more trending modern cuts may run snug but that's the intention. I'm a size S/4 in bottoms & can best describe myself as a larger small but definitely not medium. When regular adult size S is too snug for me, I've often found the perfect solution in a Youth XL sizing which is similar to an adult small. I recommend, for those of you who run into sizing problems, maybe do some more research on Youth & Adult sizing similarities and see if these work for you!
How to style your outfit!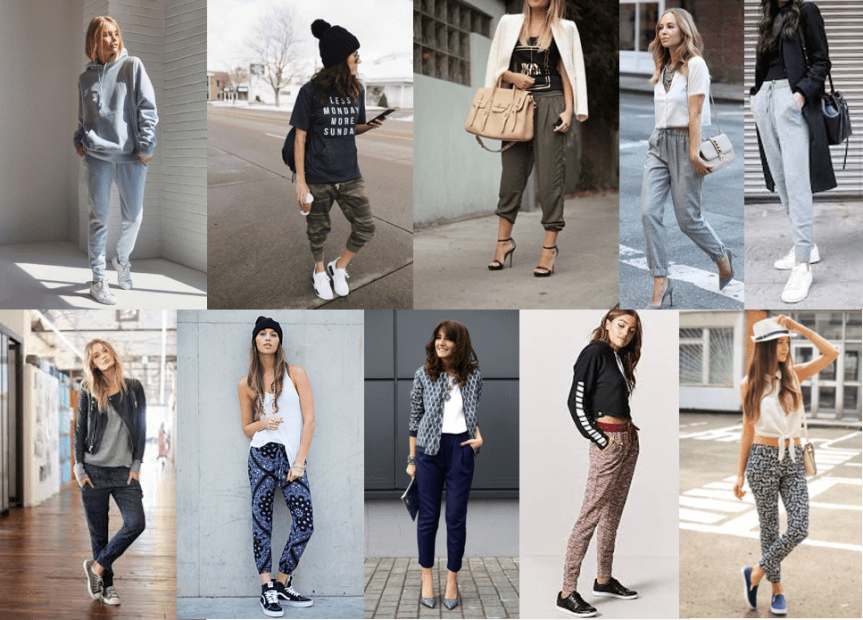 Finally, the fun part – putting all this knowledge into practice! Sweatpants (here I'm referring to all the  types including trackpants, joggers, modern cuts etc.) have long thought to be  'comfort-wear', or 'sport-wear'. But the more I look around me & understand the modern world of fashion, I've realized the Sweatpant is a very versatile & fashionably dynamic category of pants.
Not only are sweatpants today worn for sports, sporting events & warmups (adidas actual markets specific sweatpants depending on warmup, during & after practice activities!), they're worn to the gym, for workouts, road-trips , travel and hiking. Whether it's to keep you warm or get you noticed, today we live and run chores in their sweatpants.
Think of dates & casual weekend activities. Pair your favorite sweatpants with a cool pair of sneakers & T-shirt & you're all set. Or take it up a notch with a denim jacket, beanie & muffler or cowl wrap for winter!
Finally, elevate the sweatpants to the office/ work environment & formal events. Here, it's critical that you choose the right kind of joggers that look more like harem pants & trousers. Keep sporty vibes to a minimum. The fabric here also contributes to the look. Something made of thick cotton-polyester blends or jersey knit comes across as casual. Whereas synthetics like polyester, modal and rayon look significantly more elegant. The slouchy joggers by H&M have worked well for me in an
Accessorize your outfit with a heel, a formal jacket & statement pieces like jewelry, scarf & a handbag and you can really dress it up 😊
It's all about you – your personality, how you wear & accessorize your joggers and sweatpants that make all the difference and transform the jogger from comfy, laid back and casual to sexy & elegant!