I ordered my Simpli Home Hamilton Rectangular Storage Ottoman Bench (Large, Slate Grey) online and have had it for about 2 months now. I love everything about it and could not be happier or more satisfied with my purchase. Here's why:
Construction

This is one sturdy storage ottoman. For starters, it was delivered as one piece, no assembly required! Hinges attach the lid to the rest of the rectangular frame. The entire ottoman – body and lid – is made of a solid yet lightweight material, making it easy to transport and carry around. The body is not collapsible and can take the weight of 2 full grown adults. The lid is tufted and lightly padded making it comfy to sit on.
Aesthetics


The storage ottoman fits neatly at the foot of my bed, adding character to the bedroom
I purchased the ottoman in slate grey, a color that blends and easily matches with any room décor. This contemporary piece can be used in your living room as well as the bedroom. After much deliberation, I placed it at the foot of my bed in the bedroom. It is amazing how little space the ottoman takes up, while at the same time having the storage capacity to fit a ton (its interior is spacious, deep and wide enough)! It fits just right with the setting of the room, adding elegance and utility.
Value for Money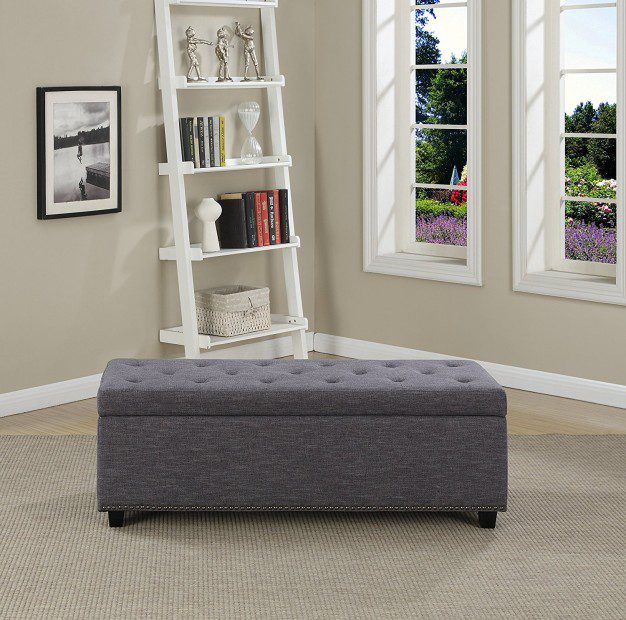 Simpli Home Hamilton Rectangular Storage Ottoman Bench, Large, Slate Grey
I bagged my ottoman online at amazon shortly after black Friday sales. The ottoman was listed at half its price then and while it did take a while for the company to fulfill my order, it was more than worth the wait. That said, having purchased this ottoman and reviewing its quality and usage, I'd be happy to have purchased it at the regular marked price.
This is one of the best pieces of furniture I've brought and I can tell we're going to have quite a long happy relationship together