Do you still play video-games and/or enjoy good sci-fi movies? Are you fascinated with space? Would you attend cos-plays and comic-cons? Are you always up to date with the latest in the tech world? Do you consider yourself a geek or a nerd? If so, you deserve to have some fun! And we've got just the thing for you –  a list of geeky restaurants from around the world! There's something in here for everyone.
Witches in Britches – Melbourne, Australia
If walking through a tunnel of terror, while chowing down your 3-course dinner to the cackling of a 2 hour live stage musical comedy show & dance in a cage of death till the wee hours of the morning is your idea of fun, then the 40-year old  Witches in Britches theater restaurant might just be the thing for you. Located in the Wicked Castle, this horror themed restaurant – owing its resurgence to the public's latest obsession with movies and serials like Teen Wolf, Twilight, The Vampire Diaries and vampires, witches, werewolves and the supernatural in general –  offers a kitschy interactive show rooted in contemporary pop culture.
The Ninja Restaurant – Manhattan New York
Welcome to Feudal Japan where traditional Japanese food, sushi or steak teriyaki is served by waiters in Ninja Garb. If you are not a fan of surprises and sneak attacks, beware because anything can happen in this warrior-themed restaurant with its dark alley ways and maze of passages lit by lanterns. Friendly Ninja magicians may approach your dinner party with a few tricks, but if you aren't so lucky the dangerous ones may creep up on you or pop up out of nowhere to catch you unawares. Don't say we didn't warn you.
The Black Pearl – Bangalore India
If you are fascinated by the lifestyle of Pirates and Captain Jack Sparrow from 'Pirates of the Caribbean,' don't be surprised if the next word out of your mouth is "Arrr…!!!" India's largest Pirate and best themed restaurant- The Black Pearl – is here! Diners be prepared to board a pirate ship and enter a world of fantasy. The restaurant's wooden floors resemble the deck of a ship, the chairs draped with ropes, the sight of skulls and mannequins of pirates with eye patches, is designed to make you believe you are on a pirate ship and for a minute possibly even being held captive in one. But the Barbecue on the table and the live Pirate Grill will keep you ever nourished! Diners get to Sing along with a live band, make merry, eat, drink and have a jolly good "Shiver me timbers" time!
The Museum H. R. Giger Bar – Gruyères, Switzerland
Space travelers and alien lovers, unite! Finally, we have a space themed restaurant worth mentioning. The Museum H. R. Giger Bar is one of several bars themed and modeled by the Swiss artist H. R. Giger. The interior of the bar – it's roof, walls, fittings and chairs – is modeled along the lines of H. R. Giger's biomechanical style as shown in the Alien films. Just the decor alone sells the experience!
Hajime Robot Restaurant – Bangkok, Thailand
This is the first ever Japanese restaurant, where all the serving waiters are ….robots (!!!). Diners order their food on a touchscreen display in order to activate the robots. Not only are these fascinating robots programmed to serve up more than 100 dishes and bus tables, they also entertain diners with a dance or two while they work. The owner of the restaurant, Lapassarad Thanaphant, said she spent 30 million baht ($927,600) on the restaurant including the purchase of four robots from Japan. Talk about hi-tech dining!
Drac Restaurant – Castell d'Emporda, Spain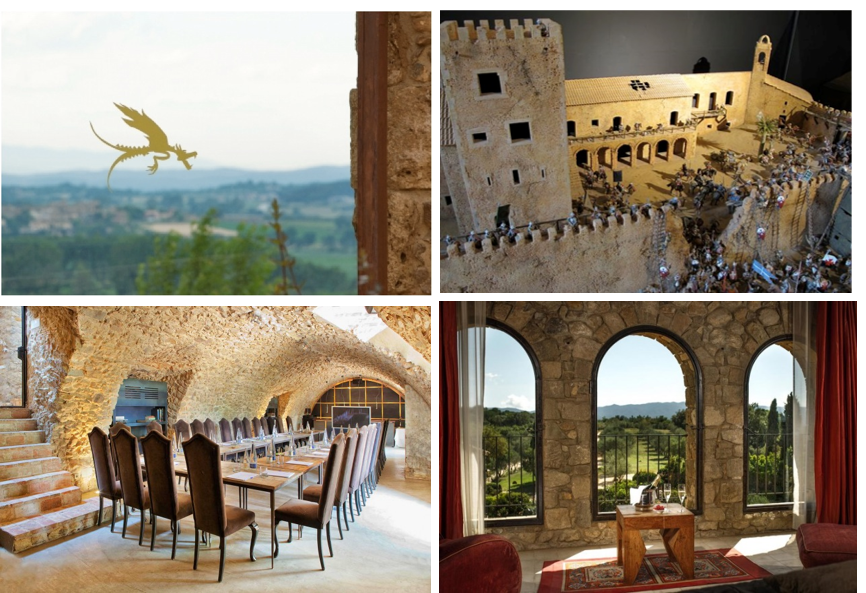 If you are a fan of The Game Of Thrones and all things Dragon, you will love this one. Situated in the Empordà region, halfway between Barcelona and the French border, the Drac Restaurant in the Castell d'Emporda, Spain offers all the allure of a medieval style Game of Thrones restaurant. This medieval stone castle in the countryside is filled with exotic relics from around the globe. This place is so 'Game of Thrones' it even has miniature models of the siege of Castell d'Emporda in medieval times! The restaurant received a score 9/10 and is quoted a destination in itself
Mars 2112 – New York, NY
Transport your little ones to the Red Planet at this intergalactic Times Square favorite.  Now defunct, Mars 2112, an elaborate underground theme restaurant, was one of many tourist-targeted restaurants in the Times Square district of New York City. Based on future space travel and spanning 33,000 sq. ft., it was the largest such themed restaurant when it opened in November 1998. In its hay days, patrons were issued passports and escorted by restaurant staff, dressed as Spaceport personnel, to a full-sized flying saucer, where they were subjected to a bumpy 5-minute motion ride through a "Translunar Wormhole", through a Martian Colony to the star bar and main dining area where giant video screen and smaller TV monitors display 1990s computer landscapes accompanied by robotic, noodling music.  The bar's "Mars-tinis" and "Cosmos-politans" were some of the best drink specials in Midtown.
Miracle of Science Bar and Grill – Cambridge, Massachusetts
This interesting eatery could not get any geekier after displaying its menu inside a chalkboard periodic table, forcing you to recall a bit of your science classes while deciding your order. It was one of the first restaurants to employ the open floor concept. According to it's website, this bar & grill is "always packed with artists, musicians, geo physicists and computer gurus who know they don't have to go anywhere else looking for a good time". Miracle of Science truly stands out as the leader in geek-chic.
The Hobbit Pub – Southampton, England

Calling all J.R.R. Tolkien fans, we've found the one ring to bring you all and in the darkness, bind you and it goes by the name of  The Hobbit Pub. The colorful cocktails and shooters served by the bar are fitting for the dwarves, elves, hobbits, and wizards that lend them their names. Fellowship quests, live music, real ales, hobbit cocktails, massive garden and atmosphere combined with the Middle Earth style in which the menus are presented make this a must-visit spot for geeks. Come see for yourself, you'll love it!
Insert Coin(s) Barcade – Las Vegas
"It's dangerous to go alone! Take this" (Legend of Zelda). Video Lounge, Game bar and Las Vegas Night Club rolled into one?! Nothing can get better. Armed with a unique combination of classic cabinet arcade games (like Mario Bros, Tetris, Street Fighter, and Atari Classic Pac Man), modern video-game systems like the Xbox and ps3 playable on high-def screens at the bar or in VIP booths, diverse musical programming and a geek-chic vibe, Insert Coin(s) opened in April 2011 at 512 Fremont Street. The nerdy atmosphere of the bar had a fittingly geeky menu to match, including specialty cocktails inspired by The Legend of Zelda, Super Mario Brothers, and more. Insert Coin(s), a mecca for gamers, has closed after a four-year run "due to a rapidly changing DTLV business environment," according to owner Christopher LaPorte.
Storm Crow Alehouse – Canada
the Storm Crow Alehouse, is best described as a fantasy tavern….  in real life. If you like simple British style food while catching up on geek culture, you'll love this. You can roll a burger there just like a character, play board games all day, even join in a game with strangers. Roll the dice game for shots is the best part when the Alehouse's craft beer draught list features 20 taps of BC microbrews, a host of amazingly geeky cocktails, and great pub food… including the exclusive "Dungeon Burger."
World of Warcraft themed restaurant – Beijing, China
"Let's get Ooking party started!" World of Warcraft (WoW) has finally made its way from virtual to real world, with the opening of a Beijing restaurant named and themed after the famous video game. The entrance of this WoW inspired restaurant is designed to look like the Dark Portal (The Burning Crusade's intro screen) .The interior walls are lined with artwork and murals from the game and shots of characters in epic gear. TV screens throughout the restaurant play footage of the game, and the menu is crafted on the latter as well.
Brick Burger Restaurant – Philippines
Owner, Jergs Correa's love of all things LEGO inspired the menu and décor of the Brick Burger Restaurant in Pasig City, Philippines. The restaurant is Lego-inspired in every way. Here, burger-buns are shaped like toy Lego blocks in three primary colors: red, yellow, and black. Giant LEGO bricks double as ceiling lights. Diners can play with Lego sets while they wait for their order and free sets are given out to those who can finish their super-sized meal in record time. Even the bill tray will be made from LEGO bricks.
EXP Restaurant + Bar – Vancouver, Canada
You would probably have to be a gamer or at least have an interest in video games to really enjoy and understand this bar. This video game-themed restaurant allows you to watch gameplay on giant screens, there are live twitch streams, arcade machines, game decor and references are all over this restaurant and bar. The food menu is game-worthy as well. Visitors can order a Master Chief Burger with some Super Smash Nachos and wash it all down with a Red Dead Lemonade. If you thought you'd "shoot my way out, mix things up a little" the EXP restaurant and bar has a full list of mixed drinks for you. From 1-UP shooters to Hadouken martinis, EXP has no shortage of interesting drinks to choose from.