"Jeans" – America's classic staple and favorite 'go-to' comfort clothing item since the early 1980s have always been in great demand, getting make overs year after year. We've taken jeans for granted. They make white tees look great on everyone and we hardly hear of a bad jean day! However, jeans while comfortable from the start, were not always the fashion item they are today.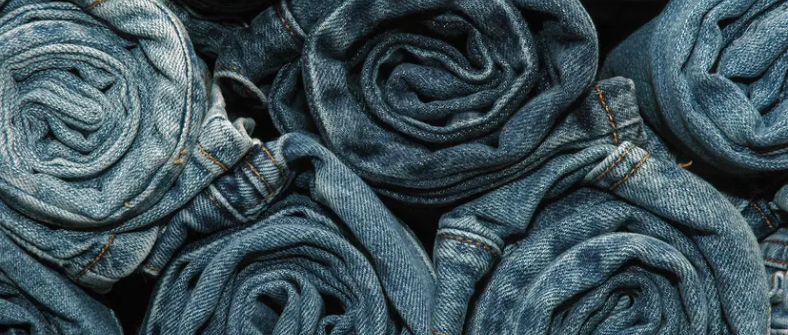 The History & Popularization of Jeans
Denim and jeans are often used synonymously in modern times. The technical difference is that while denim is a type of fabric, jeans are a type of garment made from denim. Denim fabric – sturdy cotton twill fabric woven with an indigo, gray, or mottled white yarn- was first created and produced in France in the city of Nîmes. The word denim is an English slang of the French term: "de nim" (from Nim).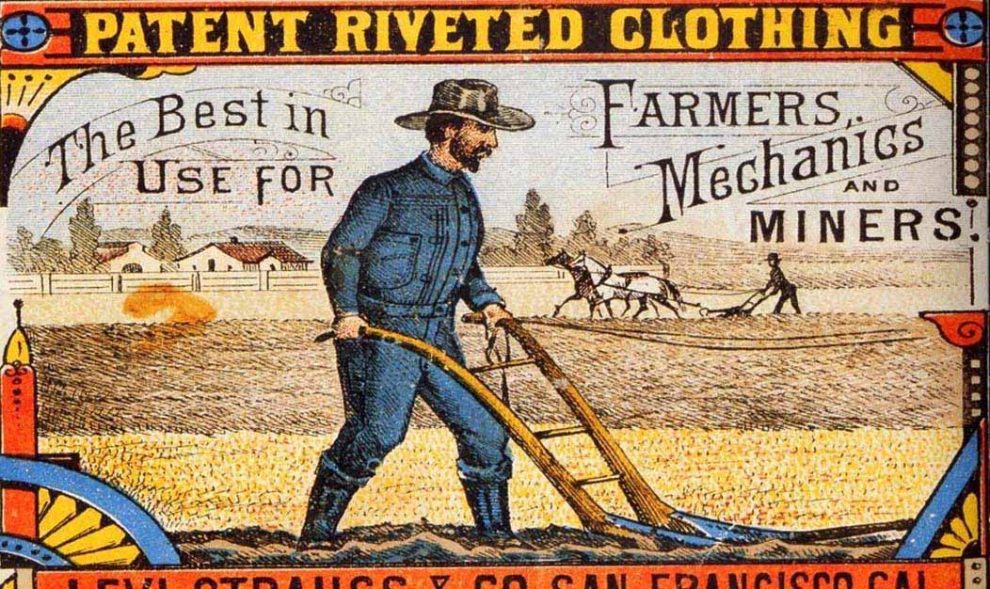 Levi Strauss popularized denim during the goldrush in the early 1980s when he started a shop in San Francisco and began making durable pants for miners with large pockets for storing gold. Jacob Davis, one of Strauss's customers added copper rivets to the seams and pocket corners of the denim pants to add reinforcement. 20 years later in 1873, David and Strauss patented the pants as 'Jeans' and began mass producing and marketing them. Jeans evolved from something worn exclusively by working men to a mainstream fashion garment that we know and love today. Levi's is the brand that is credited for popularizing blue jeans in the twentieth century is many peoples first choice and the most popular jeans brand in the world today.
Global Market Demand for Jeans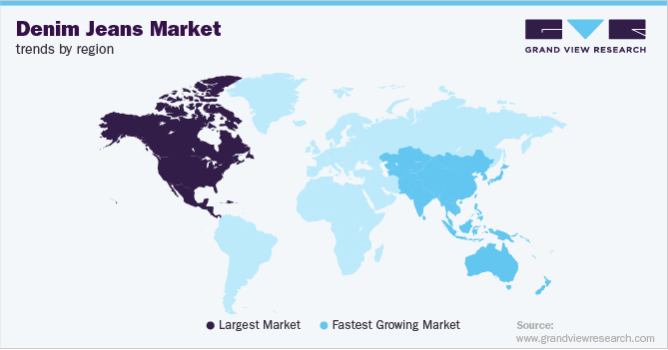 According to the Grand View Research findings and insights, the global market for Denim Jeans estimated at US$57.3 Billion in the year 2020, is projected to reach a revised size of US$76.1 Billion by 2026. The Denim Jeans market in the U.S. was estimated at US$15.1 Billion in the year 2021 and currently accounts for a 24.6% share in the global market!
Globally, the popularity of denim is growing especially in the Men's segment market, followed by women and then children.
Jeans: Modern Trends, Styles and Cuts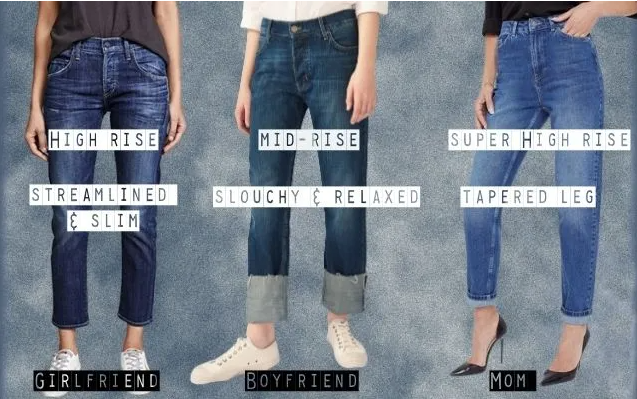 As we enter 2023, it is perhaps a good time to review some of the trends in women's jeans and styles. While some of the traditional styles are making their comeback these days, this blog article will specifically discuss 3 currently trending jean types in an attempt to help you decide which looks best on you in terms of comfort as well as style. Read on to learn more and check out my 'Jeans handy planner and checklist' sheet.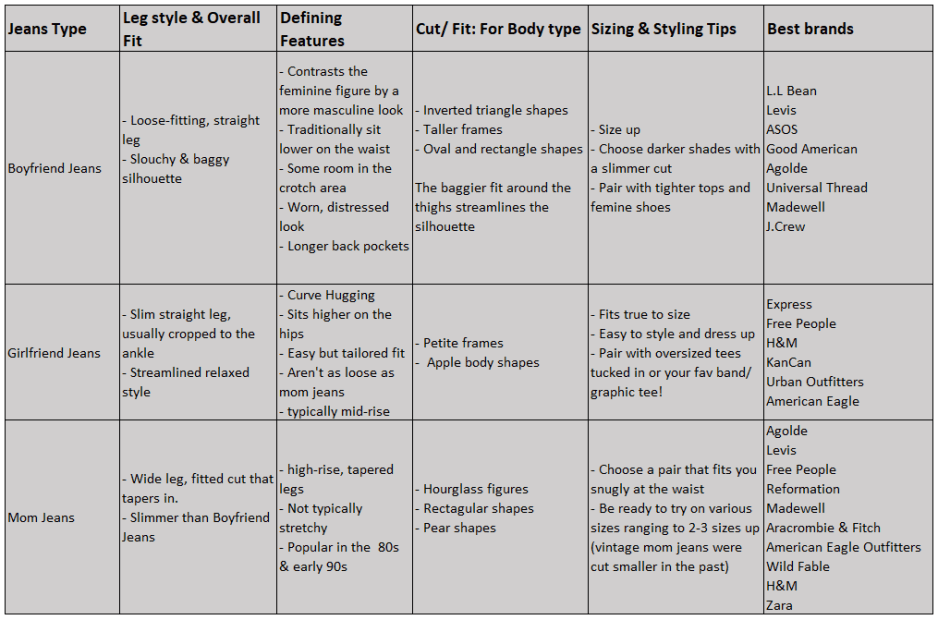 Boyfriend Jeans: For that relaxed, laid-back look!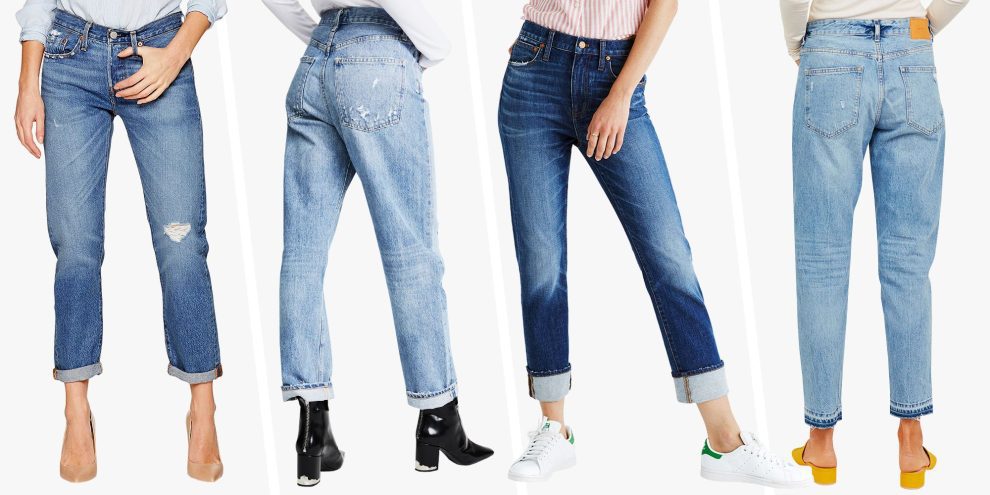 Although it became increasingly popular in recent years, the boyfriend jean has been around for decades. This style can be traced back to the 1960s, when Marilyn Monroe wore boyfriend jeans – loose-fitting jeans – to contrast her feminine looks with a more masculine aesthetic. Boyfriend jeans are slouchy denim pants with a loose fit through the thighs and waist, meant to capture the look of a person borrowing their boyfriend's worn-in jeans.
Boyfriend jeans come in high-waist styles but traditionally sit lower on the waist with a straighter waist to hip line to create a baggy silhouette. These are perfect for people with an inverted triangle shape and those with taller frames – with smaller hips than shoulders, as well as oval and rectangle. Because of the baggier fit around the thighs, this will streamline your silhouette.
The Boyfriend jean is meant to be worn slouchy and relaxed. However, this doesn't mean that boyfriend jeans always have to be worn extra baggy. In fact, more and more, newer versions of the boyfriend fit are being created – slimmer, more tapered versions that are still relaxed and slouchy but with a sleeker fit.
Girlfriend Jeans: The Goldilocks of women's denim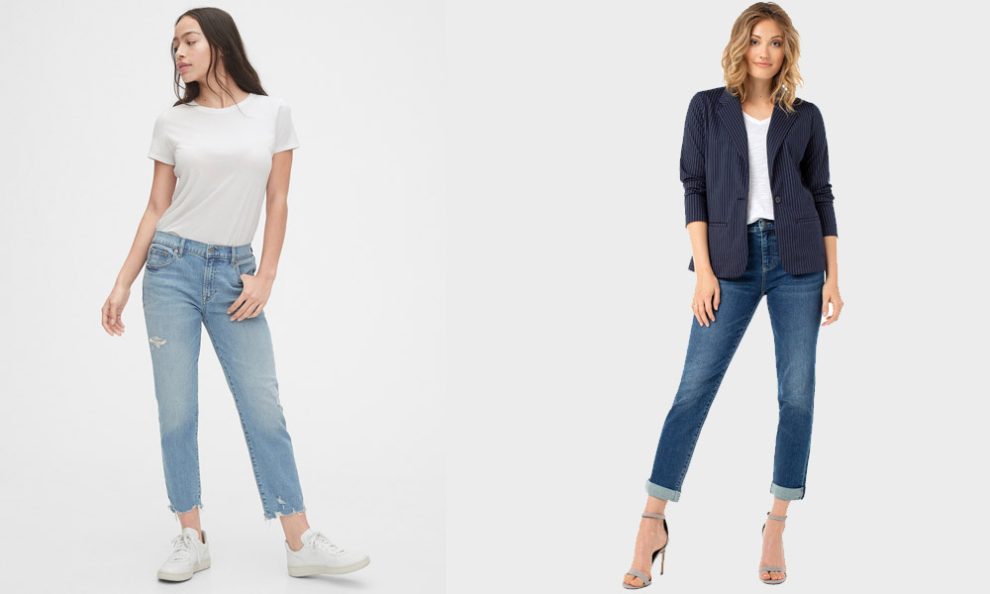 Compared to the Boyfriend style, Girlfriend jeans are new to the denim scene. They began as an offshoot of boyfriend jeans because many women struggled to find the right cut of boyfriend jeans to flatter their figure. 'The Girlfriend is a more feminine version of the boyfriend jean cut' explains TOPSHOP Jeans Buyer Keda Rich.
Designed to hug your curves, the girlfriend style mimics the boyfriend cut but still shows off your shape. It is a streamlined relaxed style. Girlfriend jeans are cut to sit higher on the hips and have a slim straight leg fit. The waist is higher, legs are slimmer, tapered, and often cropped to the ankle.
Girlfriend Jeans are great for Petite & Apple body shapes and anyone who finds the boyfriend style drowns them. Think of girlfriend jeans as the Goldilocks of women's denim. They're not too high rise and don't hit too low on the hip. They're not skin-tight like jeggings but aren't as loose as mom jeans either. Many women rave about girlfriend jeans because they are just right. So, what are you waiting for? Get it, Girlfriend!
Mom Jeans: The trendy staple your closet needs!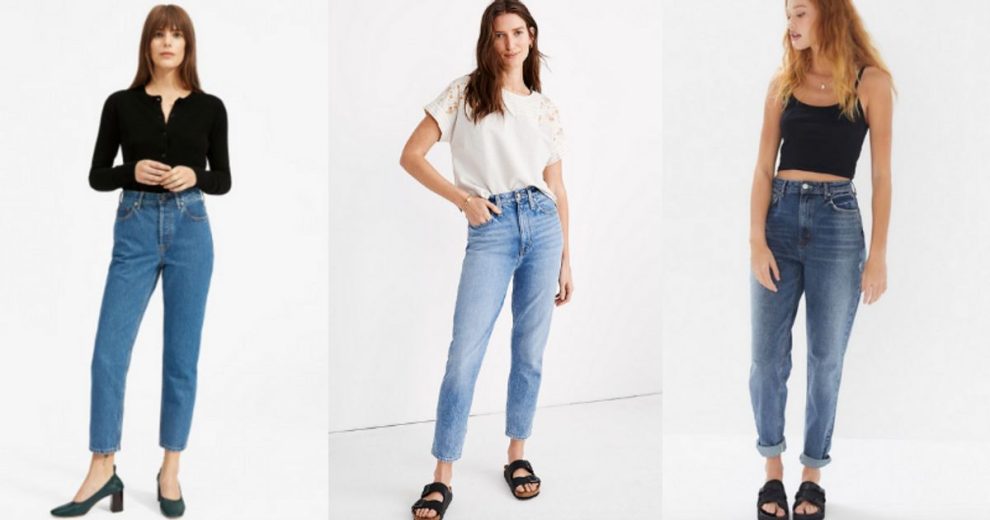 Originally fashionable in the late 1980s and early 1990s, Mom jeans are a high-waisted women's jeans mainly worn by middle-aged American women and considered unhip by trendy younger women in the late '90s and early 2000s. Ironically, they are making a surprising come-back today thanks to their well-known 'comfort' feature.
The main difference between the Mom and Boyfriend style jeans are in the zipper area. Mom jeans are high rise with a fitted cut that tapers in while boyfriend jeans have a straight cut at the waist and they sit lower on the waist.
Mom jeans continue to be a comfortable, casual option when it comes to jeans. With their wider leg, yet tapered waist, they are great for hourglass figures. As they tend to be loosely fitted on the legs, they do work for more rectangular body types as well as pear shapes, when the cut is right.
Sizing tips & How to Style your outfits!
Anyone can rock the Boyfriend jean. When you buy boyfriend jeans, size up so they hang a bit looser than normal. Tight tops play well with these loose bottoms. Boyfriend-cut jeans are meant to be oversized but should still highlight your specific shape. The thighs and waist should be slightly loose but not so baggy that they're falling down. Those with taller frames may enjoy the way extra wide-leg boyfriend jeans look. The secret to looking good in boyfriend jeans is to opt for a slimmer cut. Choose darker shades with the right length and team with tighter, more structured tops. Complete the look with feminine footwear (heels perhaps!).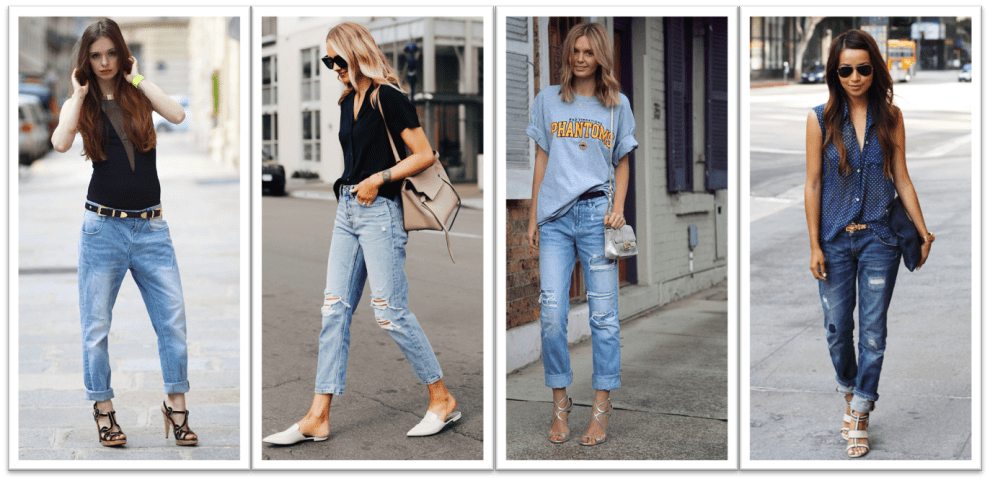 A big part of the appeal of Girlfriend jeans is how easy they are to dress up. Girlfriend jeans have 'fun' and 'flirty' written all over them! Pair them with a band tee or a graphic print t-shirt and you're ready to go. If your t-shirt is oversized, try half-tucking it into your jeans and adding a black belt. Most girlfriend jeans hit at the ankle for a slightly cropped fit. Adding a pair of heels compensates for the shorter length of the jeans, which could otherwise make your legs look short. You don't need to choose a very high heel. Even a shoe or sandal with a low heel or classic pointed-toe pump will flatter your legs in girlfriend jeans.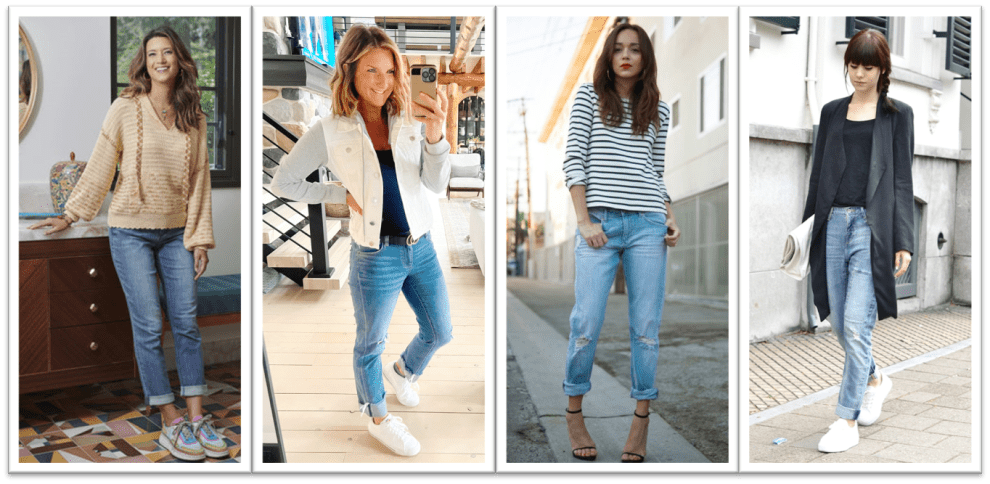 Mom jeans are the most flattering jean you can wear. They're effortless and cool and cinch in at just the right part of your waist, making whatever you pair them with look great! A helpful tip to remember when you are looking for mom jeans is to make sure the pair isn't too tight around the waist. One of the aspects that makes mom jeans so great is that they are flattering with a little bit of room and give. If you find that they feel a little tight around the waist, you might want to consider sizing up.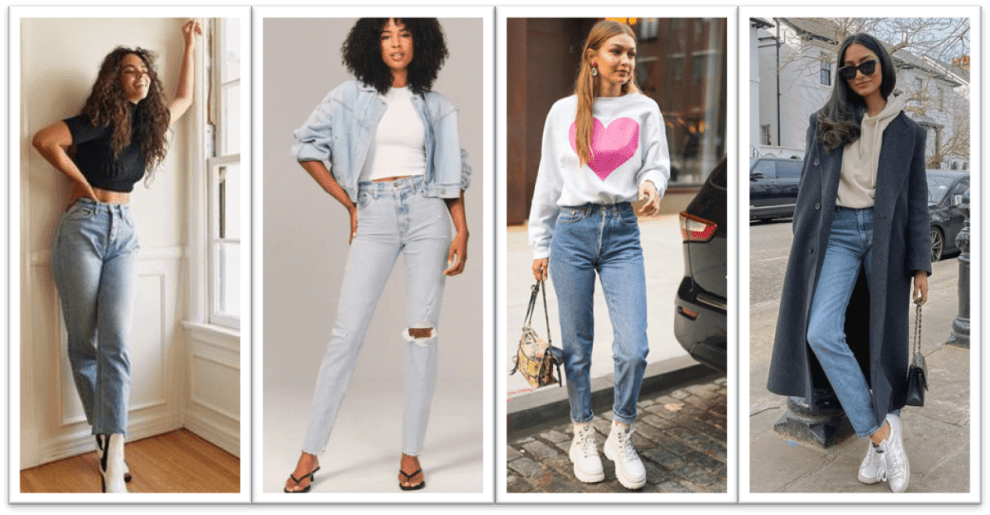 When shopping for mom jeans, pull a wide range of sizes because mom jeans could run small. Because mom jeans aren't stretchy, finding the right size can be tricky. Pull several pairs of jeans ranging in sizes from your normal size to 2-3 sizes up. Pick the size that feels comfortable to you. This is especially true if you buy vintage mom jeans from a thrift store. Sizes were typically cut smaller in the past, so you may need a larger size than you'd normally wear.
Mom jeans are a true wardrobe staple and go well with almost anything in your closet! Try wearing them with an unbuttoned long-sleeve shirt over a tank top and trendy loafers for "a more casual out and about look." They pair well with heels too, so you can even slip them on for a night out.
Trending Denim Jean Brands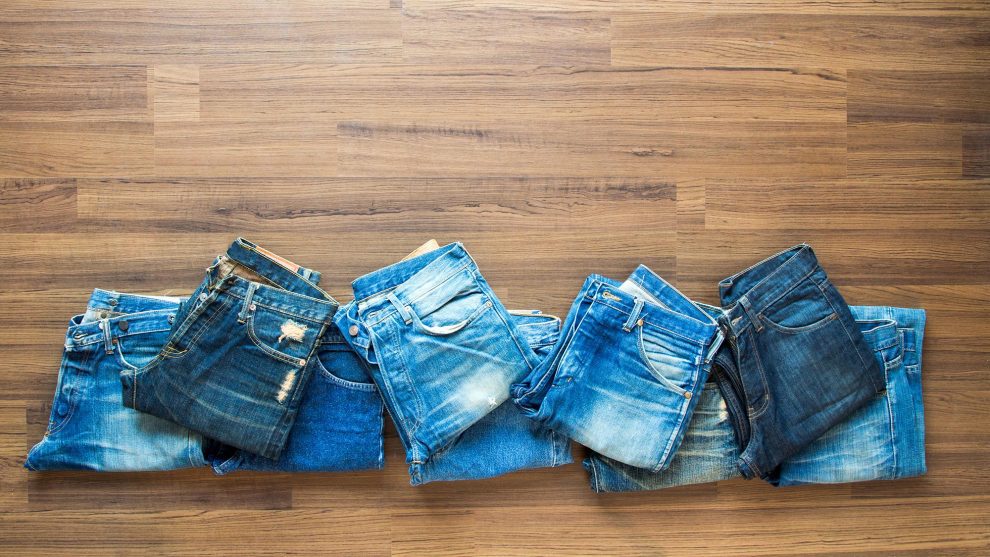 People and Instyle Magazines list L.L Bean, Levis, ASOS, Good American and Agolde as some of the best Brands for boyfriend jeans.
Based on 'likes' and 'sold items' on Poshmark – the social marketplace for new and secondhand style for women – the brands that are most sought after for their Girlfriend jeans include Express, Free People, H&M, KanCan, Urban Outfitters and American Eagle.
When it comes to Mom Jeans, Agolde, Levis, Free People and Reformation are the top listers according to New York Magazine's The Strategist. Abercrombie, American Eagle Outfitters, Wild Fable and Old Navy are some of the affordable brands to look out for.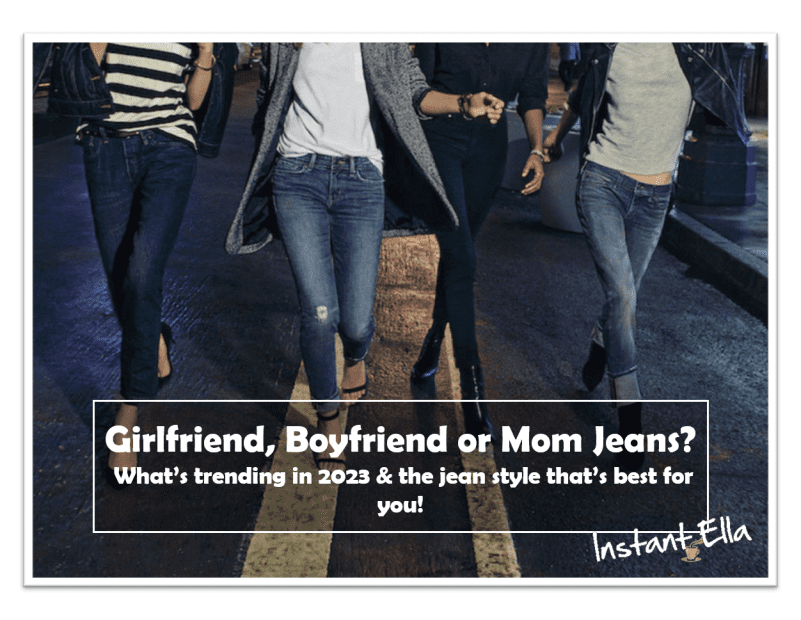 Shopping for your perfect pair of jeans does not have to be such a struggle anymore. With these tips and tricks, under your belt (quite literally!) you should be able to pick out a pair in no time and hopefully it becomes the one you reach for over and over again. Afterall, jeans should be everyone closet staple. They are here to stay and not going anywhere. So, what are you waiting for? Go get 'em, girlfriend!