My husband and I work from home. He is a web developer, designer and blogger. Until recently, I used to be a full time HR professional working in a multi-national firm. Today, I work with my husband on client projects, website management and my own solo initiatives.
For folks like us, workspace becomes critical to our productivity. Both my husband and are very ordered and organized. We cannot work in clutter and need our space to be creative. More importantly our space has to bear our personality whether it be artsy, elegant yet minimalistic like me or hardcore, reflective and precise like him.
Keeping all of this in mind. We decided we needed to re-decorate the office. The clincher was to do it on a low budget, making use of what was already in the house as much as possible.  And that's where creativity, resourcefulness and confidence comes in. Here are a few ideas we put into reality and which we hope will inspire you when you decide to re-decorate and re-organize your workspace.
Utility is key!
Get rid of the clutter. Make sure you only have what you absolutely need taking up space in your home office. Utility means functionality to me, and that's where I think a lot of us make trade-offs, having to sacrifice creativity and art to functionality. But I didn't and here's how:
Desk: For us, this meant having just one desk instead of 2. The way to get around seating issues is to find a desk that allows for leg space on at least 2 sides if not all the way around. (aha! Now you get it.)
Calendars: The world may have gone digital, but I still use the traditional calendar. It's convenient and taking up wall space is always better than taking up desk space when you already have a small desk to begin with. It's also artsy. What do I mean? Have you ever tried taking a Video Gamer's calendar (in our case it was Halo that blended perfectly well with the rest of the office theme) and hanging it to look like a poster? Try it. High chance you'll love it!

Coasters: I get through my day with at least 3 caffeine breaks so instead of having dull boring coasters, I picked up a set of 4 Star Wars' coasters at Target (on clearance) with a black and white Storm Trooper theme to match the black and white casing of my husband's gaming PC in the office. Needless to say the coaster is theme appropriate, does it's job and when it's not, it still makes for an interesting piece of art!
Space & Color
Ours is a small workspace. I discovered however, that if you invest in white furniture and add some mirrors to the mix, it can do wonders. That's why we chose an unused 3.5 ft X 2 ft vanity mirror to add a sense of space and depth to the room.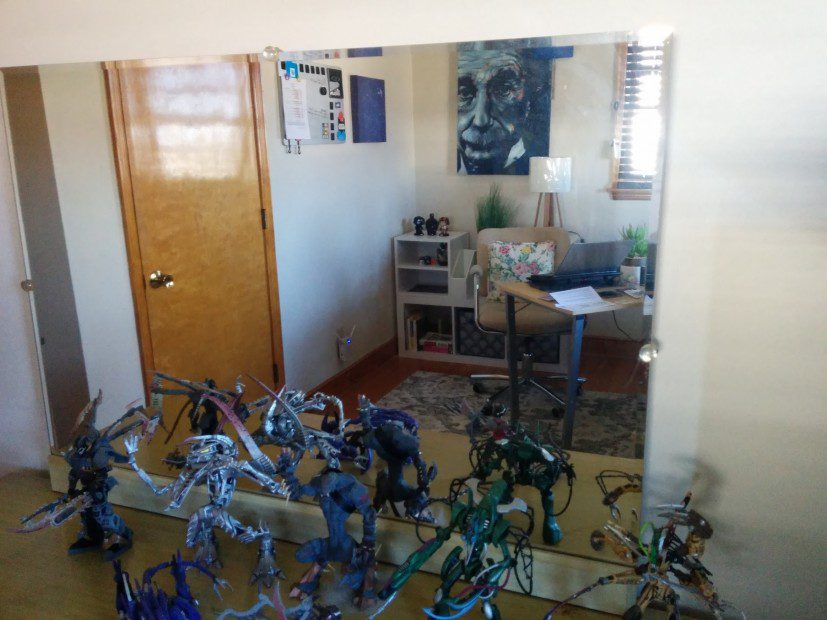 If you have to have color, stick to 1 or 2 only and play around with shades of the same color rather than use a third. For us this was red and blue and the theme runs through the posters and wall art in the office.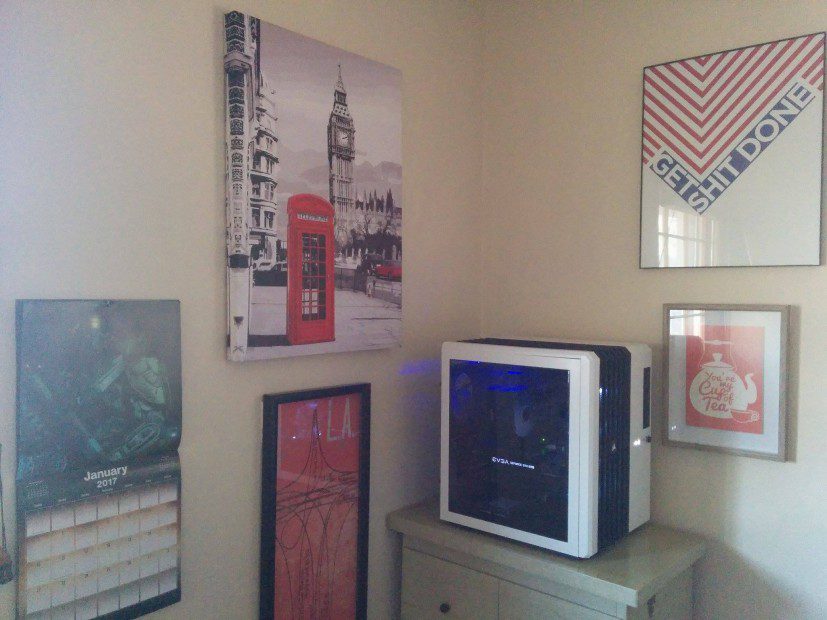 The biggest value add to the office however, has been this sturdy white storage cube organizer we recently purchased online at Walmart. It is not only useful, acting as a bookshelf, curio display shelf and storage (for all the ugly stuff in the office people don't want you to see. Lol) but lends modernity to the room. Ours may look like one piece but is actually 2 single cubes (bought separately) and mounted on the lower 3- piece cube. I went a step further and added a white magazine/file holder (which had I lying around the house) to the ensemble which may not even be noticeable because it blends in so well. Here's another tip: everything is art. Be attentive to odds and ends around the house , which if paired well with other items can turn into a beautiful utility and would definitely save you a trip to the store.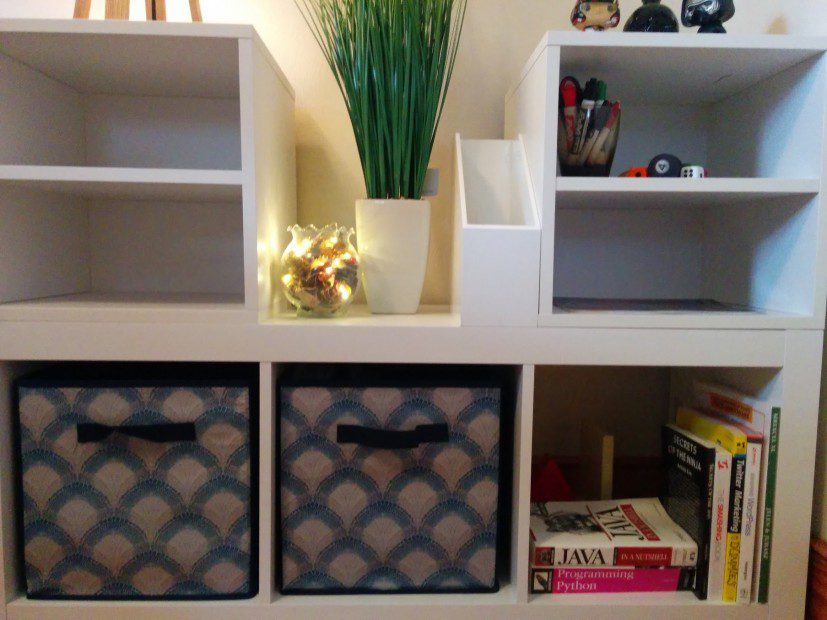 Lighting, like mirrors can add beauty and space to a room. A workspace definitely needs this. But ceiling lights can be harsh sometimes, kill the aesthetics of the room and be very unnerving for people trying to work. A soft light on the other hand can be relaxing, help your focus and give you that much needed break to meet deadlines. We added medium voltage contemporary, light-weight lamps to the room. I also put together a decorative light bowl, using a spare glass bowl, LED lights and some old potpourri fill ups I no longer need. If you don't have potpourri, you can use candles, decorative stones or shells. Run with your imagination here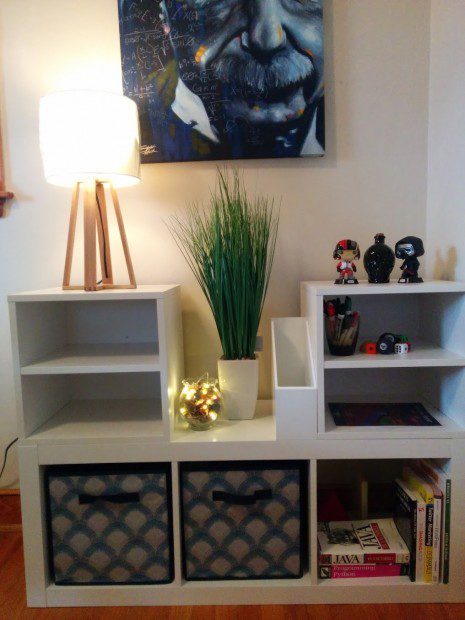 Reflect your personality

This is undoubtedly the most important part of decorating your home office. It's your office and must reflect your personality. As a child, like most boys, my husband collected many action figures from Star Trek, Spawn, Pokemon, GI Joe, etc. So it was no surprise that when I came across a ton of them in the basement and began to organize his collection, he suggested we use a few to mount in the office. If action figures was his thing, the light bowls were mine and what goes better with light than greenery, so I added a few (fake) indoor table plants. It makes the room more aesthetics. And who doesn't have stickers and cutouts, too interesting to get rid of, but also too small to do anything meaningful with? I just took a few interesting high quality curated stickers a client had given my husband to sample, mounted them on white paper (kind of like a collage) and framed them in a small desk frame. My husband loves it and says it motivates him to 'do more' and 'keep it simple' at work because that's exactly what the stickers say.
My husband and I are proud of our new home office and the short time we took to get it done. It's our space and one of the prettiest rooms in the house, decorated on a low-cost budget. Breathing new life into old space isn't difficult to do and if we can do it, so could you!